22 May 2017
The Portuguese company Cistér will fit out its warehouse in Portugal with the automatic Pallet Shuttle system with transfer car by Mecalux. Through this solution, the company will attain a storage capacity for 12,672 pallets, while achieving a very high inflow and outflow of goods. All operations and processes will be controlled by the Mecalux Easy WMS warehouse management software.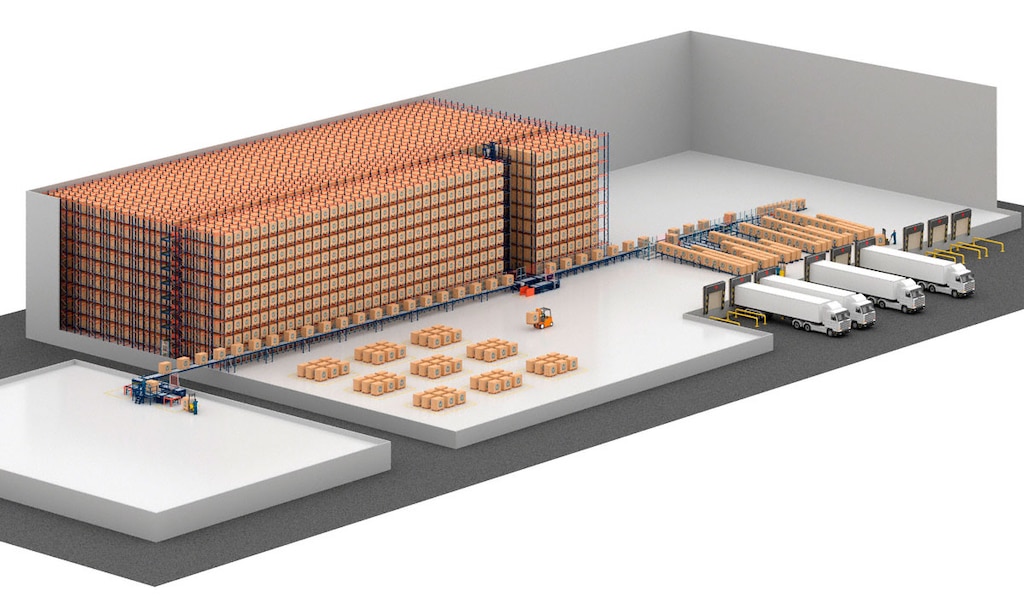 The facility will consist of two blocks of 71 m long, 17.6 m high racks with nine levels. The deeper channels will accommodate a total of twenty-four pallets and the shallowest, eight.
On each level, there will be a transfer car that positions the shuttle in front of the storage channel assigned by Easy WMS. From there, the Pallet Shuttle will automatically introduce or extract the pallets. Two pallet lifts (one input and one output) will connect the different levels.
Mecalux will supply a conveyor circuit linking the production centre to the warehouse, as well as the racks in the dispatch area. In addition, 18 live preload channels will classify the products by route or customer.
Given the growth prospects of the company, the design of the warehouse takes into account future expansion, which will step up storage capacity to a total of 22,464 pallets.
Cistér, part of the Raimundo & Maia group, is a Portuguese company founded in 1999, specialised in canned vegetable and fruits. Its production facilities are filled with cutting-edge technology, which ensures the high-quality of its products.
Guardar
Guardar
Guardar