09 Jan 2018
Karton.eu, an online packaging business, teams up with Mecalux yet again to set up some Movirack mobile racks in the company's warehouse located in Spremberg, in north-eastern Germany. This solution, and the third Mecalux has recently installed at Karton.eu, reaffirms the solid rapport between the two companies.

In 2014 and 2015, Mecalux enabled two zones in the Karton.eu warehouse with 6 m high, three-level pallet racks, which offers a capacity of 1,800 pallets of 800 x 1,200 mm.
By the end of the year, the company was scrambling to keep up with growing demand, so it needed another storage solution, but different to the previous two. After coming to a consensus with the technical team at Mecalux, the company chose Movirack mobile pallet racking, a high-density system that cuts out unneeded aisles, increases storage capacity and offers direct access to pallets.
The installed solution has 13 double-deep Movirack mobile racks and two stationary units that are approximately 7 m high and 26 m long. The three-level high racks house more than 2,000 pallets that are 800 x 1,200 x 2,200 mm in size and have a unitary weight of 600 kg.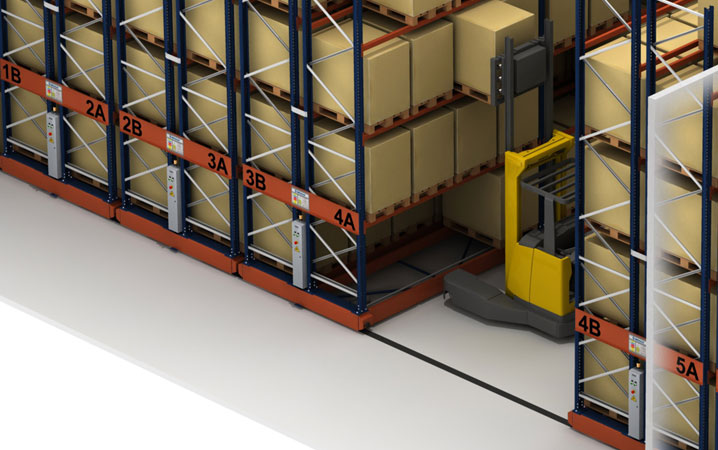 To open the required aisle and to extract or deposit the goods, the operator gives the command using a remote-control device. The aisle is wide enough (3.9 m), so the operator can easily handle the merchandise with a forklift. Moreover, the block of Movirack mobile racks has its own control cabinet, as well as onboard cabinets in each of the racks to guarantee the system functions properly.
Who is Karton.eu?
Karton.eu is a German business established in 2007. It specialises in the online sale of packaging material both in Germany and abroad. Other than cardboard boxes and foldable boxes, the company's product catalogue also includes filler to protect boxed items, poster board and adhesive tape. All Karton.eu products are adjusted or custom made to the customer's liking.