08 Aug 2017
Mecalux has installed pallet racks in the warehouse of a transportation firm in Germany, where it houses a diverse variety of pallets filled with many different SKUs. Overall, the capacity comprises 6,700 pallets and containers of distinct sizes and turnovers.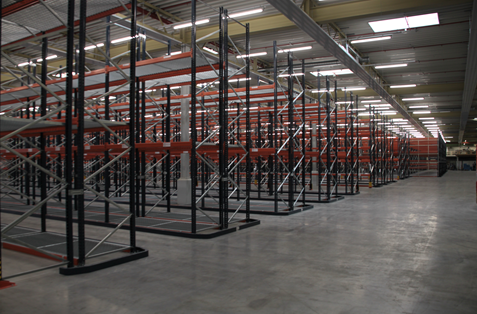 One of the primary advantages of the pallet racking system is its adaptability to any load, weight and volume variable. Wire mesh shelving on all levels guarantees maximum pallet stability.
Operated by narrow aisle forklifts, this warehouse –whose aisles only are 1.7 m wide– makes full use of the available surface areas to yield a higher storage capacity. Guides are installed on the sides of the aisles, assisting the centralised entry of forklifts and their safe circulation inside.
The warehouse is owned by a leading manufacturer of technical equipment and industrial vehicles for the European transportation sector. It designs and sells innovative lorries with the latest technological advances adapted to the tough demands of its customers.