31 Oct 2017
Mecalux, via Safer Storage Solutions, has supplied a high-density Pallet Shuttle storage system able to stock three different pallet sizes and cantilever racks in the city of Sydney to the well-known company Reece, a leading Australian plumbing and bathroom fixtures supplier.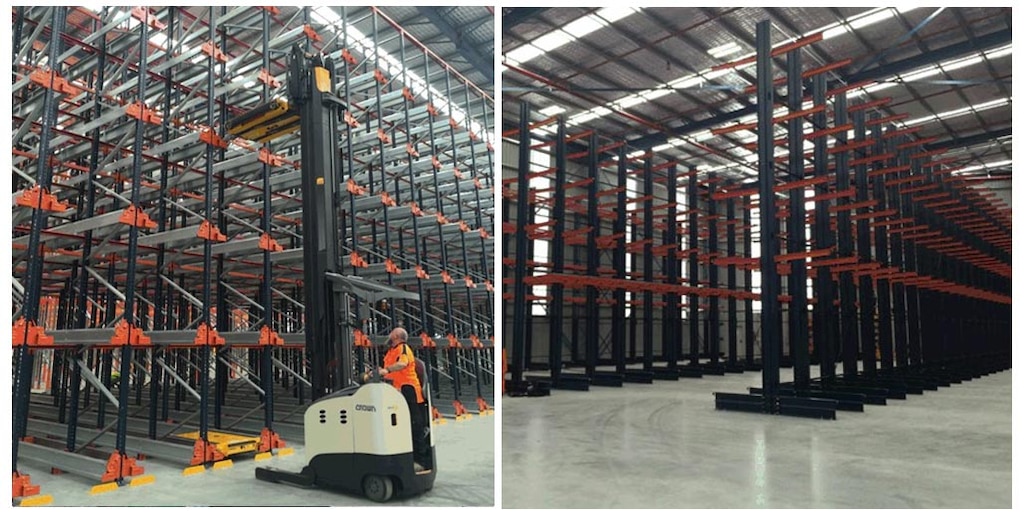 The semi-automated Pallet Shuttle system holds a total of 5,340 pallets distributed in six blocks of racks using shuttles. Five of these blocks can house either Euro pallets (800 x 1,200 mm) or Australian standard pallets (1,165 x 1,165 mm) in six load levels at a maximum of 13 pallets deep. The sixth block, five load levels high and nine pallets deep, can handle three different types of pallets: Euro pallets, Australian standard pallets and non-standard 1,300 x 1,300 mm pallets.
The Pallet Shuttle system by Mecalux is the ideal solution to accommodate the wide range of products Reece works with. Racks operate with the LIFO (last in, first out) and FIFO (first in, first out) systems depending on the logistics requirements, in addition to offering capacity and adaptability. Pallet Shuttles are tasked with depositing and extracting pallets, avoiding forklifts from having to enter the racks. Thus, it minimises any sort of incident or blow, as well as reduces the loading and unloading times. Both the racking and the shuttles have built-in safety features specifically designed to ensure the correct operation of the Pallet Shuttle system. Among them, a locking system that increases the contact between the shuttle and the lift forks and a position camera that helps to manoeuvre the Pallet Shuttle into place in the channel, making sure it is centred.
Mecalux also enabled cantilever racking designed specifically with the needs of Reece in mind. Five load levels stand 8.6 m high where longer products are stored, –for example, pipes for civil works. Mesh shelving was placed on top of the rack arms to distribute the load on each level uniformly.
Besides the supplied systems, the new Reece warehouse is set up for future enlargement depending on the company's growth.
About Reece
Reece, a business that offers a huge variety of products and services related to plumbing, tapware and bathroom products, irrigation and air-conditioning, and much more, started doing business in 1919. Currently, it is the leader in plumbing and bathroom spaces in Australia, with more than 450 shops throughout the country and a team of more than 4,000 professionals.
Guardar
Guardar
Guardar
Guardar
Guardar
Guardar
Guardar
Guardar
Guardar
Guardar
Guardar
Guardar
Guardar
Guardar