Warehouse management software Easy WMS
Increase in productivity. Total control over warehouse management. Elimination of errors. Reduction of logistics costs. Permanent inventory.
With a longstanding experience of over 50 years offering warehousing solutions applied to Mecalux WMS (Warehouse Management Software).
Request information and/or a quote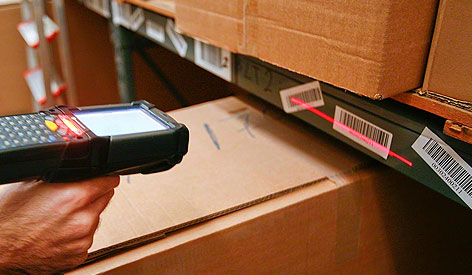 Start making more profitable your warehouse with Mecalux Easy WMS Basic version

FREE Download Easy WMS Basic
Easy WMS is an information management software whose purpose is to optimise the physical management and tracking of the flow of goods, from entry into the warehouse to dispatch, guaranteeing traceability.
Therefore, independent of the company's size and sector, the implementation of the Easy WMS warehouse management system improves the management of fundamental operations in all areas of the warehouse: reception of goods, storage and inventory, order preparation and dispatches.
View more information
Find out about its multiple features
Find out about its custom options
---
Easy WMS manages a manually operated warehouse that uses paper tracking or radio frequency with the same efficiency as a large automated installation.
---
Key advantages
There are two ways of implementing the solution: cloud-based (SaaS) or on-premise.
Real-time inventory and control of stock.
Reduced logistics costs.
Up to a 30% improvement in order preparation.
Integration with any ERP and all types of devices.
User friendly and 100% online interface.
A management system that revolutionises warehouse productivity
Space savings
The Easy WMS warehouse management system uses location rules and strategies applied to the goods and the logical framework of a warehouse. Space optimisation is achieved, increasing storage capacity by up to 40%.
The user can send consolidation orders to compact material according to different criteria: product, proprietor, batch, expiry date, etc.
The system also makes it possible to manage cross-docking, saving space in the racks and in picking times.
Cost savings
The implementation of the Easy WMS is a high profitability investment with a short or medium term ROI.
Cost savings are evident throughout different variables. Key advantages include:
Optimisation of personnel deployment and handling costs (up to a 30% decrease in handling operations).
Inventory minimisation.
Adjustment of the stock investment level and its turnover: up to a 40% reduction in stock costs.
Up to a 30% decrease in handling equipment.
Up to 30% more productivity in order preparation.
Virtually paperless warehouse management.
Quality service
Computerised warehouse management improves the quality of service to the end customer, since errors in deliveries to customers are reduced by 99% and, therefore, returns are also reduced.
In addition, Easy WMS maintains stock turnover at levels that generate neither excess inventory nor stock-outs. It anticipates sufficient capacity for future market performance based on past results, catering to demand both flexibly and satisfactorily.
Versatility
Combinable
With any ERP and other devices like pick/put-to-light, voice picking, label printers, etc.
Multi-proprietor
It allows the management of third-party stock. Ideal for logistics operators.
Multisite
Only a single server is installed, but it can be used in various warehouses in different geographic locations.
Multilingual
The application is translated into 15 languages and several alphabets.
Expandable
Attributes specific to a customer's business processes can be included.
Adaptive capacity
To new market trends, like e-commerce.
Integration
with automatisms, either from Mecalux or other manufacturers.
Mecalux dependability
When implementing this type of software, it is fundamental to choose a good technological partner, which guarantees the optimal operation of the system and its continuity in the future.
Mecalux Software Solutions fulfils all requirements:
Backed by a solid company, with more than 50 years of experience and in-depth business knowledge.
The system adapts to the customer's needs through a flexible, modular platform and not the customer to the system's limitations.
Hundreds of successful implementations in small, medium and large companies from all sectors.
Investment in R&D for ongoing software development and updates, which evolve responding to market demands and trends.
International coverage in more than 70 countries, with an ample network of offices and local support to quickly take care of our clients, wherever needed.
We provide our customers with the support they need at every stage of the project, from pre- to after-sales service, to the analysis, design, configuration, programming, training and start-up.
Excellent support service and overall maintenance.
Easy WMS: get a competitive edge in your supply chain
The Easy WMS warehouse management system is an information management software whose purpose is to streamline the physical management and tracking of the flow of goods, from entry into the warehouse to dispatch. This entire process is based on continuous planning and provides comprehensive monitoring of activities and real-time inventory control.
It has a wide range of uses, as it is aimed at any sized company from a variety of sectors, from a small company with a manually operated pallet rack warehouse using paper tracking or radio frequency, to a large or mixed automated warehouse installation.
The installation of Easy WMS optimises all the movements, operations and processes within the warehouse, and allows control of its core operations:
Reception of goods
Storage and inventory
Order preparation
Dispatches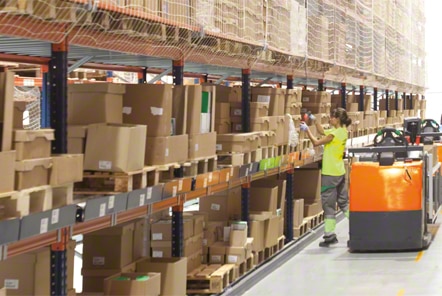 Easy WMS grows and evolves alongside a company. The system has two optional apps so the user can adapt the software configuration to their needs, via a very intuitive and easy-to-use interface: Easy S, for configuration, graphic design and simulation; and Easy Builder, to customise everything from workflows, to reports or labels.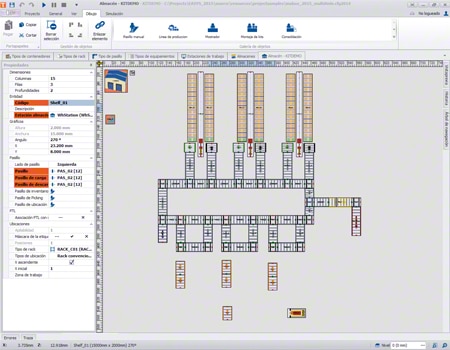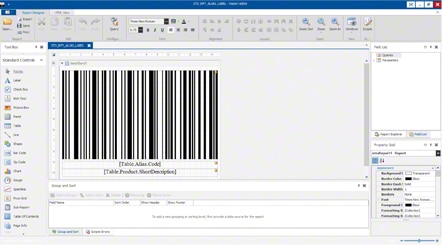 Two options for setting up the solution show its great flexibility:
SaaS mode
Cloud-based implementation model, with a 100% online interface. The customer accesses the management system, its associate apps and updates all from a subscription-based online service, with the utmost security and without having to invest in an infrastructure to house the software.
On-premise mode
With this option, both the software and the hardware required for its operation will be housed in the customer's installations. In the hierarchical control and management structure, Easy WMS is located in the layer immediately below the ERP of the company, with which it communicates directly. There are no intermediate layers and the possibility of errors in data transmission is minimal.
Since distribution systems are considered a strategic element within supply chain management, the implementation of Easy WMS gives a company acompetitive edge, as it entails cost savings, improved service quality to the end customer and, ultimately, the maximisation of warehouse profitability.
In other words, if the warehouse is the regulating element between supply/manufacture and demand, the incorporation of the Easy WMS meets this demand both flexibly and satisfactorily all at the least possible cost. The consequence is the optimisation of all the activities concerning the flow of materials and products from the supplier to the consumer.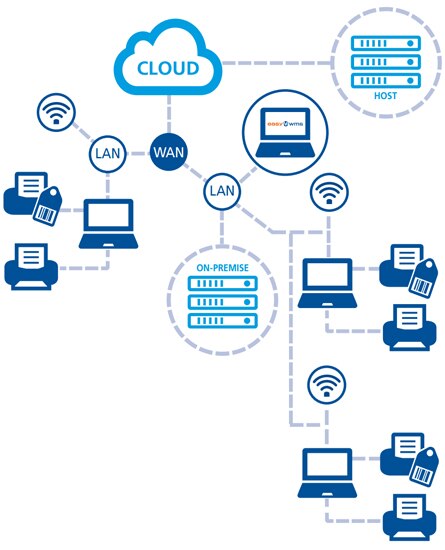 Easy WMS is one of the warehouse management systems with the most features on the market
Easy WMS offers an extensive range of features to suit the needs of all types of logistics operations. The different levels of functions within Easy WMS suites any sector activity and are grouped into: Receptions, Storage, Stock control, Dispatch and Tools.
Key features include:

Receptions
Cross-docking. Shipping of stock directly from the dispatch dock.
Goods receipt w/o prior order.
Receptions coming from suppliers or production.
Logistics data acquisition (control by batch, production date or minimum durability, due date, serial number, calibre, colour, etc.).
Reception documents.
Label with barcodes.
Partial receptions and returns.
Automatic communication with the ERP.
Transfers between warehouses.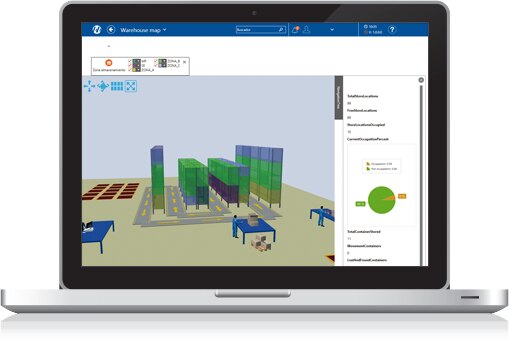 Storage
Location rule manager (by product, presentation, supplier, owner, turnover, etc.).
Complete tracking inside the warehouse, from input to output.
Automatic defragging.
Manual or automatic replenishment of picking locations.
Manual stock reserves.

Stock control
Display of the warehouse and its stock.
Dynamic turnover management.
Re-counts at any moment of the day and according to established variables (owner, product, serial number, etc.).
Lost & Found location management.

Dispatches
Dispatch orders.
Optimisation of searches, times and allocations.
Output orders grouped according to delivery routes, output of full pallets, etc.
Picking management (using RF terminals or from a fixed PC station).
Management of pick/put-to-light devices to carry out picking operations.
Voice picking.
Load management of trucks and delivery routes.
Labelling and dispatch documentation.
Automatic communication with the ERP.

Tools
Equipment management.
Report and label designer.
Security. Users are authorised via a security token.
General queries.
Search and navigation. Access to different levels of information from a single screen.
Control panel. Different warehouse parameters measured in real-time.
Easy WMS, customised options for perfect integration
The warehouse management system by Mecalux offers diverse modules that facilitate its integration into any type of warehouse, whether it be complex or simple, large or small, automated or manual. The selection of these modules will depend on the specific requirements and characteristics of each customer, as well as the installation.
Easy WMS voice picking
Improve productivity and ergonomic order prep.
Easy WMS sends voice instructions via headsets and the operator confirms the task through the microphone. This technology facilitates order preparation without losing the connection to the warehouse management system. The application of this module is very useful in cold storage warehouse installations and in environments where it is absolutely necessary to use both hands to handle goods.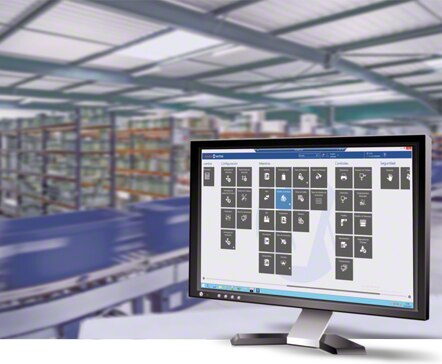 Easy WMS pick/put-to-light
Maximum speed in order preparations.
It allows the operator to use both hands to pick or put goods, performing the movements indicated by the system via lights on picking stations. It is perfect for the preparation of orders by groups. The system is paperless and can be incorporated into any kind of racking.
Easy WMS MES
Comprehensive management of the production process.
This module is ideal for warehouse environments with production centres and small production lines. It takes care of the order masters, production recipes; creates, releases, cancels and closes production orders; planning them according to a schedule as well as controlling the consumption of raw materials on production lines.
Easy WMS SAP
Integration of communications using IDocs so that the customer achieves better performance from its ERP.
Communication with SAP to import the article master, stock entries with/without management of container numbers, location management and stock outputs.

Easy WMS E-Combi
Integrated management of external systems.
In many installations, there are storage or production system elements that can be managed by a software and, at the same time, must be integrated into warehouse operations. Easy WMS establishes communication with external systems, those integrated into its management and into warehouse operations, for example: the loading/unloading of trucks; automatic picking robots; baling and strapping machines, labellers, sorters; AGVs, etc.
Easy WMS Combi
A single warehouse management system to handle different warehouse types (automated and pallet rack) in an integrated manner.
This module includes, among other features, location assignment according to configuration or operation; simplified reception processes depending on the operation and the destination of goods; simultaneous order preparation in different automatic picking stations or from RF terminals; consolidation of stock for order prep in distinct areas; and optimisation of movements.
Automated Easy WMS
The best solution for managing any kind of automated warehouse.
Designed for comprehensive management of any kind of automation: stacker cranes for boxes, stacker cranes for pallets, vertical warehouses, conveyors, etc. It streamlines the movements between the different automated stations that the warehouse consists of and guarantees its profitability.
Comprehensive maintenance and excellent support service
Mecalux Software Solutions' service continues long after the system start-up. Once the customer starts working with Easy WMS, Mecalux offers a maintenance service for hire that can include:
Automatic updates.
Remote maintenance with unlimited calls, 24 hours a day, 365 days a year.
Installation monitoring to stay ahead of problems that could arise. The software has a monitoring and backup system, Easy Monitor, that prevents and identifies possible incidents. It permits the customer to consult the status of installation services 24 hours a day both remotely and securely. It also includes an alarm system that warns the remote maintenance team of any irregularities.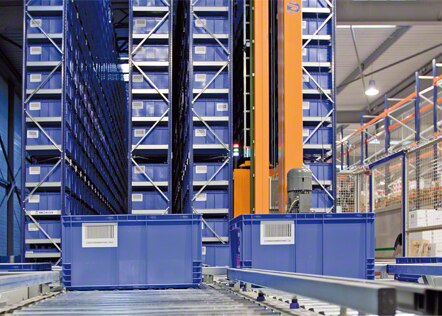 Here we answer frequently asked questions about the Easy WMS warehouse management system
Can it be integrated with my ERP?
Naturally. It is possible to transfer information via plain text files, XML, Excel and Web services.
Which databases do you operate with?
Oracle, SQL, MySQL.
Who offers the cloud-based service?
Azure (Mecalux's cloud)
A WMS takes several months to implement.
Easy WMS has applications for SMEs that can be installed within a few weeks.In addition, the Easy WMS Basic version is installable and auto-configurable in a few hours.
Now that I have installed the WMS, will it be too small when my business grows?
Easy WMS offers modules and services with different features that adapt to growing businesses.
My company is too small for a WMS.
Any business, no matter how small, can benefit from using a WMS: in stock management, decreasing errors, order prep, personnel costs, etc. The ROI is fast, between 6 to 8 months.
I need a custom WMS given the operational complexity of my warehouse.
Easy WMS is parametrisable and adapts to the needs of each warehouse. In addition, it makes full use of the advantages of a standard software. A custom WMS has little adaptability. Therefore, development and maintenance costs are difficult to justify considering that a business will outgrow its usefulness.
Is there technical support once the WMS is installed?
Mecalux offers around the clock support, in addition to an extensive network of offices with local support.
Does Easy WMS only interface with Mecalux products?
The Easy WMS can be installed in any warehouse, whether it be manufactured by Mecalux or another supplier.