Get intelligent warehouse management for handling many orders with few items
Get four competitive advantages by using our intelligent WMS e-commerce tools.
Single item reception
Get the flexibility you need to receive material one item at a time. This functionality features:
Automatic selection of receptions.
Pictures to streamline item verification.
Register alternative supplier codes directly during the item reception process.
Creation of serial numbers for received items in order to track sales units.
Print the item's label (regular or RFID).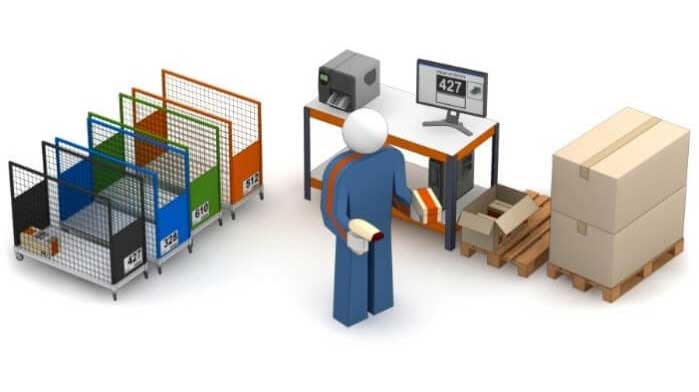 Group incoming items
This lets you separate received material into different carts or groups, and then manage these through the Easy WMS, which facilitates:
Items requested for orders with one picking line and a single unit are taken straight to the dispatch/packing area in a single cross-docking movement.
Items requested for orders with more than one picking line a/o more than one SKU are sent to the just-in-time prep area without being stored.
Items that must be stored are sent to the warehouse.
Items that must be sent straight to another warehouse are handled in the cross-docking zone when being transferred.
Items that need incidents resolved are grouped in one area.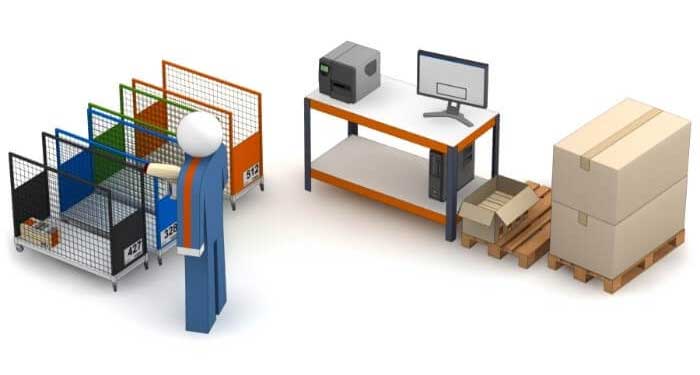 Order grouping
This system functionality expands Easy WMS to group orders as per configurable rules. In that way, order separation or just-in-time picking can be used or not used as required.
By doing so, the system determines what type of order is prepared by groups and, later, takes it to the order separation zone.
Just-in-time prep and order separation
Carry out the following operations through RF devices or from workstations:
Oversee open orders by controlling those assigned to each just-in-time prep position.
Determine the location and destination of the order by scanning any item from the carts arriving to the zone.
Get notified of picked orders to carry out their extraction.
Extract the picked order freeing up the location and deliver it to the dispatch or packing area.
Control and management of incomplete orders due to stock outages or incidents.